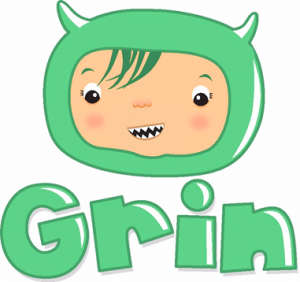 I've been writing full time for quite some time now, and I've discovered that I like to write all kinds of stories for all age groups. I've written short stories, novellas, picture books for younger kids, middle-grade books and even YA books. In any case, it was always books that I wrote but some time last year, I was approached to write scripts for TV series and animated films. I thought, why not? And I had a go. I have to admit, writing for TV didn't come naturally to me but I enjoyed it and most of all, I liked the process of putting everything together because it's so different from my usual work process of sitting down and working out the stories in my head. For one thing, it's an extremely collaborative process. In this post, I want to tell you about my experience of not only writing a script for a short animated film and going on to produce and put that film together. It was an amazing experience.
As with most things in my life, this came about completely by accident. An illustrator friend Emila Yusof, put up a picture of a cheeky looking girl in a green monster suit up on her Facebook page and I was intrigued. She looked a bit like this …
Isn't she cute? I sent Emila a message, "Let's do something with this." And she said yes. At the same time, my partner at Papermoon suggested we pitch our idea at the next  IPCC (that's the Intellectual Property Creators' Challenge). The IPCC Award is an annual event where creators from across Malaysia can pitch their stories either as a short animated film or an animated series. The winners get a grant from MDEC to produce the film or series, and a six-month mentorship with the leading figures in the industry. I'm talking about the people behind the likes of Boboboi and Upin & Ipin. Very exciting!
Emila and I being completely newbies in this field had no idea what all this entailed but we decided to have a go and within a week I came up with the idea of a special girl named Grin who lives in a town where everyone is the same. Emila came up with the artwork and we pitched it to the judges with no expectations of getting through to the next round. In fact, we did get through to the next round and I think it was because we came from outside the animation industry. Both of us come from the children's books industry and so our concept and idea was totally different to what they were used to seeing.
At the next round of pitching, we were allowed to sit in on the other pitches and it was clear that everyone else was so much better at this than us. They had actual animation clips to show! We just had my story and Emila's art – that's all. In any case, we pitched and had fun doing it and then we waited for the results which was scheduled to be announced at the Kre8tive Conference in Cyberjaya. I decided to attend just for the hell of it.
We won. We were one of around ten or so other companies who got the grant and I was ecstatic. But then I kind of panicked because it dawned on me that I would have to actually make this film. I didn't have the first clue how to go about doing this. What the heck was I supposed to do now? I mean, I know how to write a good story. I can structure a novel. I can write interesting characters and build in conflict and tension. But err… I don't know how to make a short animated film …
Thankfully, I got lots of help from friends in the industry like R&D Studios and Tudidut Studios and also our amazing mentors. Between November 2017 – April 2018, we presented our work in progress to these mentors. It was the most nerve-wrecking, gut-wrenching, exhilarating time ever. We had to change our story and our concept a couple of times but the mentors really pushed us to come up with the best film we could. After each mentorship we crawled back into our little caves to make the changes with me attempting to bring everyone together (which is really difficult for me because I normally work alone and I hate telling people what to do). I learned a lot about myself these past six months.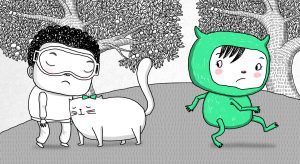 Lucky for me, my team of animators were wonderful and understanding and we eventually came up with a fabulous animated film which we can all be proud of and this is really what we were all aiming for; we wanted to produce the best short animated film from Malaysia to showcase our expertise in storytelling, art, music and animation. I didn't do this on my own – many, many people were behind the scenes masking and comping (to this day, I don't know what that means) and putting things together. My 16-year old daughter composed an original score for the film which thrilled me to no end (don't tell anybody but the music is my favorite part of this film). It wasn't easy and in fact, damn right stressful but we pulled it off in the end and I'm so proud of my team.
So what's next? We're finalising a few admin. issues like copyright and trademark, and polishing the film even more after which I intend to submit Grin for international festivals. Once the film is out, I'll post it here of course so stay tuned. And now, I'm going to lie down because just thinking about what we did the last six months has made me exhausted all over again. Till next time.